The prestigious and grueling seven day
Arundel International Jousting Tournament
will be returning this summer to the beautiful grounds of
Arundel Castle
in West Sussex, England. The tournament will take place from July 21 - 26, and will feature eight jousters from around the world.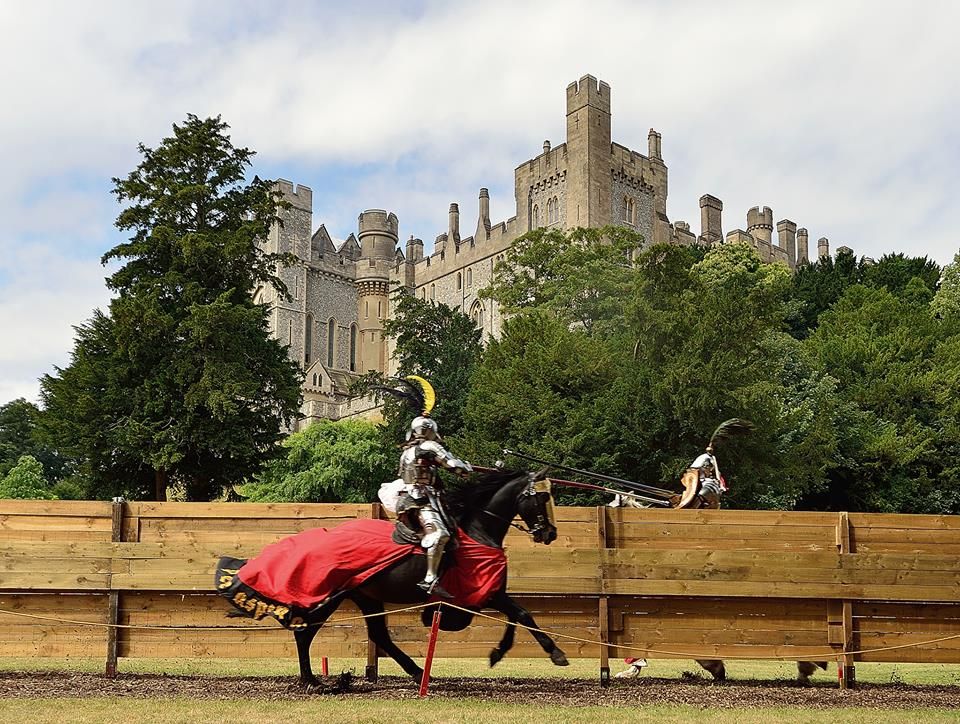 Ben van Koert(left) jousts Jan Gradon(right) at the Arundel Castle International Jousting Tournament 2013(photo by Richard Pearn)
From Arundel Castle:
Under the shadow of the mighty Castle, experience the thrill of the renowned Arundel International Jousting Competition, as revered knights from around the world gather to test their chivalry and skill at mounted combat in full plate armour.
Set within an authentic Medieval style encampment and supported by the knights and men-at-arms of Raven Tor, Distant Trumpets Story Teller and the musicians of Rough Musicke, this is a unique week long tournament.

A thrilling tournament accompanied by have-a-go archery and a host of craft displays and entertainment; this really is the highlight of Arundel Castle's events calendar.
The video below provides a taste of what the upcoming jousting and medieval tournament will be like:
The tournament is held as both a team and individual competition. Last year's team champions were
Ben van Koert
and
Per Estein Prøis- Røhjell
of the
Burgundian Alliance
, and the individual champion was
Andy Deane
. Since he was the individual tournament champion for 2014, Andy Deane will act as the knight marshal(head referee) for the 2015 Arundel International Tournament.
Andreas Wenzel(left), Individual tournament champion of Arundel 2013 and Knight Marshal of Arundel 2014, hands the marshal's baton to Andy Deane(right), individual tournament champion of Arundel International Jousting Tournament 2014(photo by Stephen Moss)
You can find out more about the event on the
jousting tournament page
of the
Arundel Castle website
and on the
Arundel International Tournament Facebook page
. There is also a Pinterest-style page with photos and information about the
2015 jousting tournament
.
Jousters Per Estein Prøis-Røhjell(left) and Andy Deane(right) break their lances against one another during Arundel International Jousting Tournament 2014(photo by ARW Photography)
Related articles:
Interview with Ben van Koert, Half of the Winning Team at Arundel Castle International Tournament 2014
Interview with Per Estein Prøis- Røhjell, Team Champion at Arundel and Individual Champion at St Olav's 2014
Burgundian Alliance Wins Team Championship at Arundel Castle International Tournament 2014
Arundel Castle International Jousting Tournament 2013