Editorial note: The Christmas Tournament in Khrabrovo, Mozhaisk, Russia is a private(not open to the public), historical joust. Many thanks to Dmitry Savchenko for sharing the details of the tournament with The Jousting Life (both this year and last year) and to Eugenia Komarova and Andrew Boykov for sharing their beautiful photographs of the event.
Written by Dmitry Savchenko
The fifth annual Christmas Tournament was held 5 - 7 January 2015, in Khrabrovo, near Mozhaisk in the Moscow Region of Russia. This Tournament has already become a traditional event. There, in a circle of friends, in a festive atmosphere, we open the Russian tournament season. Furthermore, a large winter event allows jousters to maintain their shape and skills as horsemen as well as a field team. Since last year, the tournament participants are jousting with lances, fighting in mounted melee and on foot, with long swords and poleaxes.
This year, the Christmas Tournament had a record number of participants: it was attended by forty participants, of whom seven fought on foot and eight were horsemen. The horsemen were subdivided into Knights and Squires. Knights joust with lances, while a squire's level of training and armor does not yet allow them to joust. So for the present, the squires train, eager to achieve results, and they fight in mounted melee with swords, compete in mounted skill-at-arms and also fight on foot.
Tournament competitions were held over two days, and Saturday evening, January 6, was marked by a grand celebratory feast. During the feast, we completely re-created the ceremonies of a medieval feast – from hand washing and strict order of serving dishes to the feast servers' service under control of the Feast Steward. Cultural activities during the feast included medieval music played by the "Sсhellen" ensemble, the medieval theater play
Orpheus and Eurydice
and various fun games, like "Jesting Jousting".
It should be mentioned that this year the Tournament was held in hard weather conditions. During the night from 5 to 6 January, air temperature dropped to -26 °C, in the morning it was -24 °C and by noon the air warmed up to -21 °C. During January 7 – old calendar[orthodox] Christmas – the temperature stayed at -20 °C. It was a clear and calm beautiful winter day. Fortunately, all the participants of the tournament were equipped with appropriate winter suits. However, for the sake of the horses' health, we reduced the usual tournament time at the expense of some ceremonial moments. Nevertheless the tournament competitions were carried out in full.
First, among the squires - Yuri Galilov
Ladies Court Prize - Victor Ruchkin
by Head Marshal Sergey Vislenev and Judges Rafael Gukasov and Alexander Kolyaskin
Knights Jousting:
(l.b. – lance(s) broken)
1st match: Dmitry Savchenko vs Yuri Bogunov(winner) (1 l.b. – 2 l.b.)
2nd match: Sergey Zhuravlev (winner) vs Victor Ruchkin (2 l.b. – none)
3rd match: Yuri Bogunov(winner) vs Sergey Zhuravlev (2 l.b. – 1 l.b.)
4th match: Dmitry Savchenko (winner) vs Victor Ruchkin (2 l.b. – 1 l.b.)
Total Scores:
1. Yuri Bogunov 4 points for 4 l.b. + 3 points for 1 place = total 7 points, the Winner of the Jousting
2. Sergey Zhuravlev 3 points for 3 l.b. + 2 points for 2 place = total 5 points
3. Dmitry Savchenko 3 points for 3 l.b. + 1 point for 3 place = total 4 points
4. Victor Ruchkin 1 points for 1 l.b. = total 1 point
Knights Mounted Melee:
Absolute Winner - Dmitry Savchenko, 3 points
Foot Combat:
1st match: Dmitry Savchenko – Konstantine Klang 2:5
2nd match: Yuri Bogunov - Yuri Galilov 5:1
3rd match: Victor Ruchkin - Sergey Zhuravlev 3:5
4th match: Victor Ruchkin - Dmitry Savchenko 0:5 (last fight for semifinal)
5th match: Yuri Bogunov – Konstantine Klang 5:3 (semifinal)
6th match: Dmitry Savchenko - Sergey Zhuravlev 4:5 (semifinal)
7th match: Yuri Bogunov - Sergey Zhuravlev 3:5 (final)
8th match: Dmitry Savchenko – Konstantine Klang 5:2 (3rd place fight)
Total Scores:
1. Sergey Zhuravlev – the Winner in Foot Combat – 3 points for 1 place
2. Yuri Bogunov – 2 points for 2 place
3. Dmitry Savchenko – 1 point for 3 place
Second place - Dmitry Savchenko and Sergey Zhuravlev tied with 8 points each
More photographs from the event: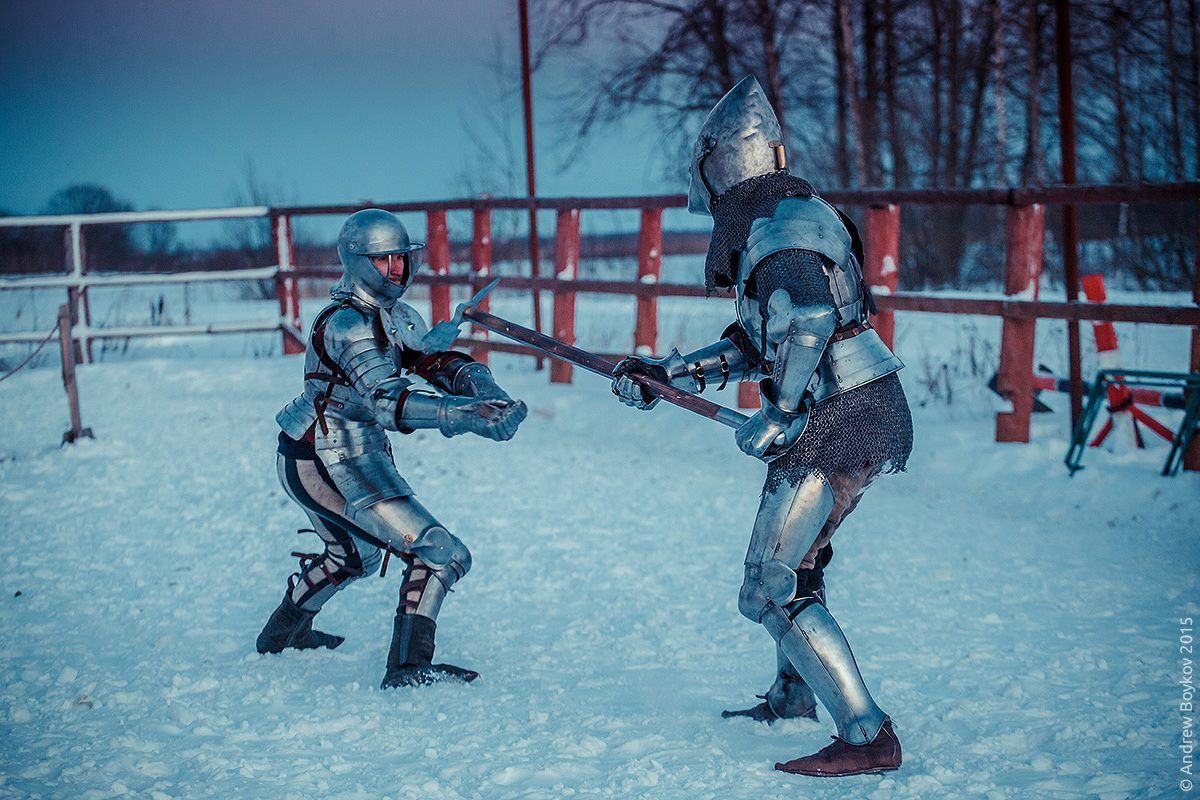 Related articles:
Christmas Tournament at Khrabrovo 2014
Jousting at Zhelezny Grad
Jousting Tournament To Be Held during Железный Град (Iron City Festival) in Russia