Written by Caroline LaBrie of
Productions Arion
Summer has not arrived yet, but the
Productions Arion
team is busy working on several projects promoting and displaying jousting and equestrian shows to numerous horse and medieval enthusiasts.
We began the 2015 season in May with a demonstration at a popular horse fair in Québec, Canada,
Le Salon du Cheval
, which welcomed about 15,000 horse lovers from everywhere in Québec. We offered a mounted skills at arm display performed by local favorites,
Marc Hamel
and
Patrice Rolland
, as well as a joust between
Caroline LaBrie
, President of Productions Arion, and
Alison Mercer
, a talented jouster from Alberta.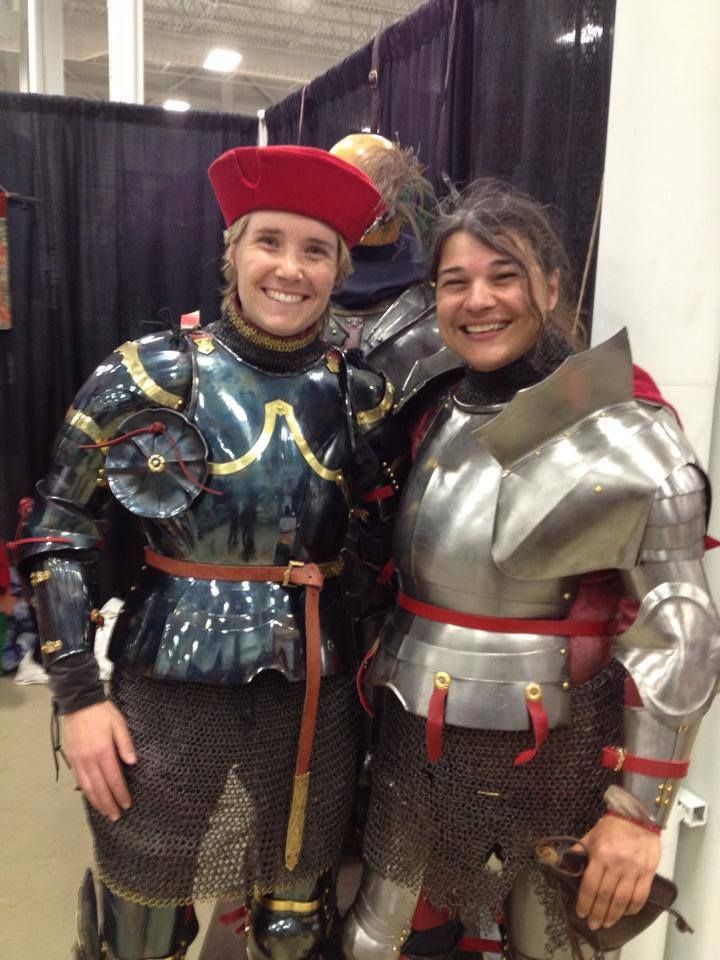 Jousters Alison Mercer(left) and Caroline LaBrie(right) at Le Salon du Cheval 2015
(photo by Marie-Kirya Duff)
For one hour, the crowd was taken back to the XVth century and enjoyed seeing our horses performing these historic disciplines. In addition to the MSA and jousting display, our partner
Equimagie
offered a wonderful fire show with a bridleless rider performing with a fire dancer.
For the first weekend of June, we organised and hosted a private event called
Le Pas de la Marche Argentée
at our boarding facility. It included a cross country gauntlet(a type of mounted skill at arms course), a popcorn joust (beginning jousters using pool noodles), mounted archery parcours(supported by
l'Escole du Grand Arc
), and of course, a competitive joust performed under the supervision of judges from the
Montjoie
historical group. Fifteen competitors enjoyed putting their skills to the test at this beautiful location.
Many of the jousters and other participants at Pas de la Marche Argentee 2015
(photo by Pamela Lucas)
The winner of the cross country gauntlet was Jessy Dufresne. Éric Charbonneau won the mounted archery contest, and Genevieve Bond won the popcorn joust. The participants in the competitive joust included: Jessy Dufresne, Stéphane Tremblay, Michel Arsenault and Caroline LaBrie. Stéphane Tremblay won the jousting tournament.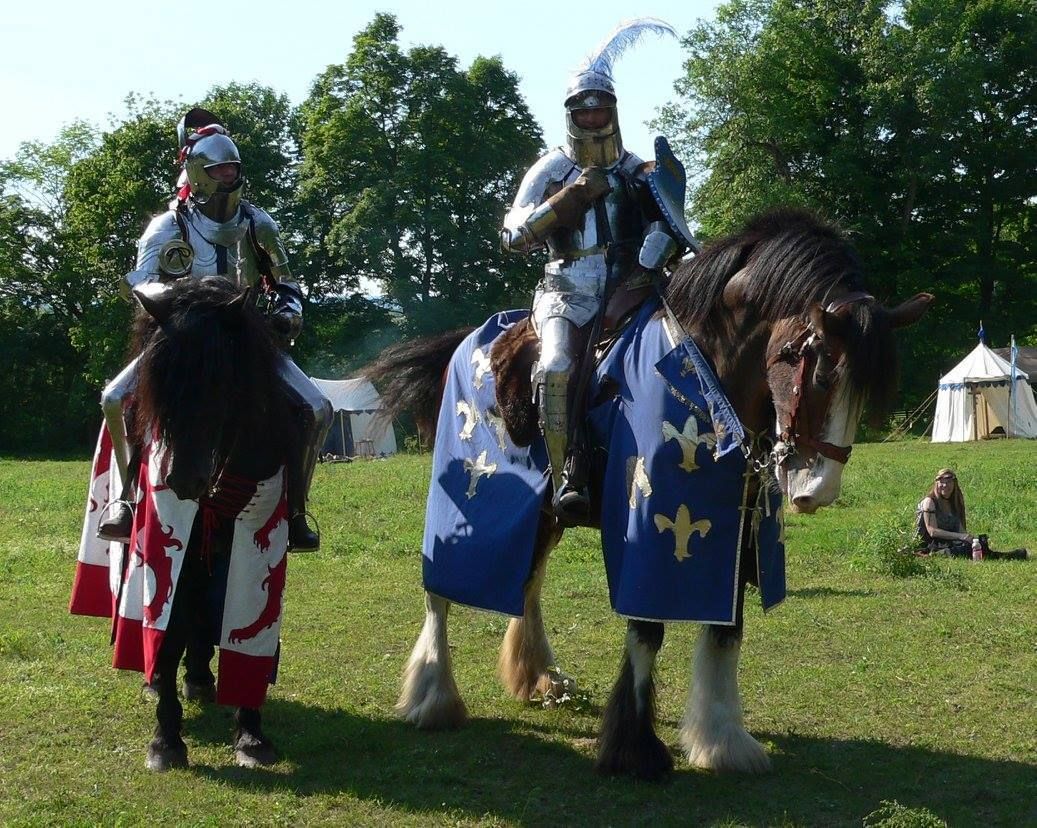 Jousters Stephane Tremblay, winner of the jousting tournament,(left) and Jessy Dufresne, winner of the cross-country gauntlet,(right) at le Pas de la Marche Argentee 2015
(photo by Marie-Kirya Duff)
On June 27th - 28th, Productions Arion has been hired to produce the equestrian portion of the
Festival Medieval de Béthanie
which will include mounted archery displays and mounted skill at arms competitions (both hunt-based and combat-based), as well as a competitive jousting tournament. The tournament will include jousters
Steve R Gagnon
,
Alison Mercer
,
Patrice Rolland
and
Caroline LaBrie
. We are happy to include in this festival the comeback of a dressage display called "Le Carrousel des Dames" with ladies of the court performing figures in historical XVth century gowns.
After a quiet July month, some of our jousters will be flying over to Alberta, Canada, in August to compete in or marshal(referee) the jousting tournament at
Brooks Medieval Faire
. We are looking forward to getting in touch with good friends over there.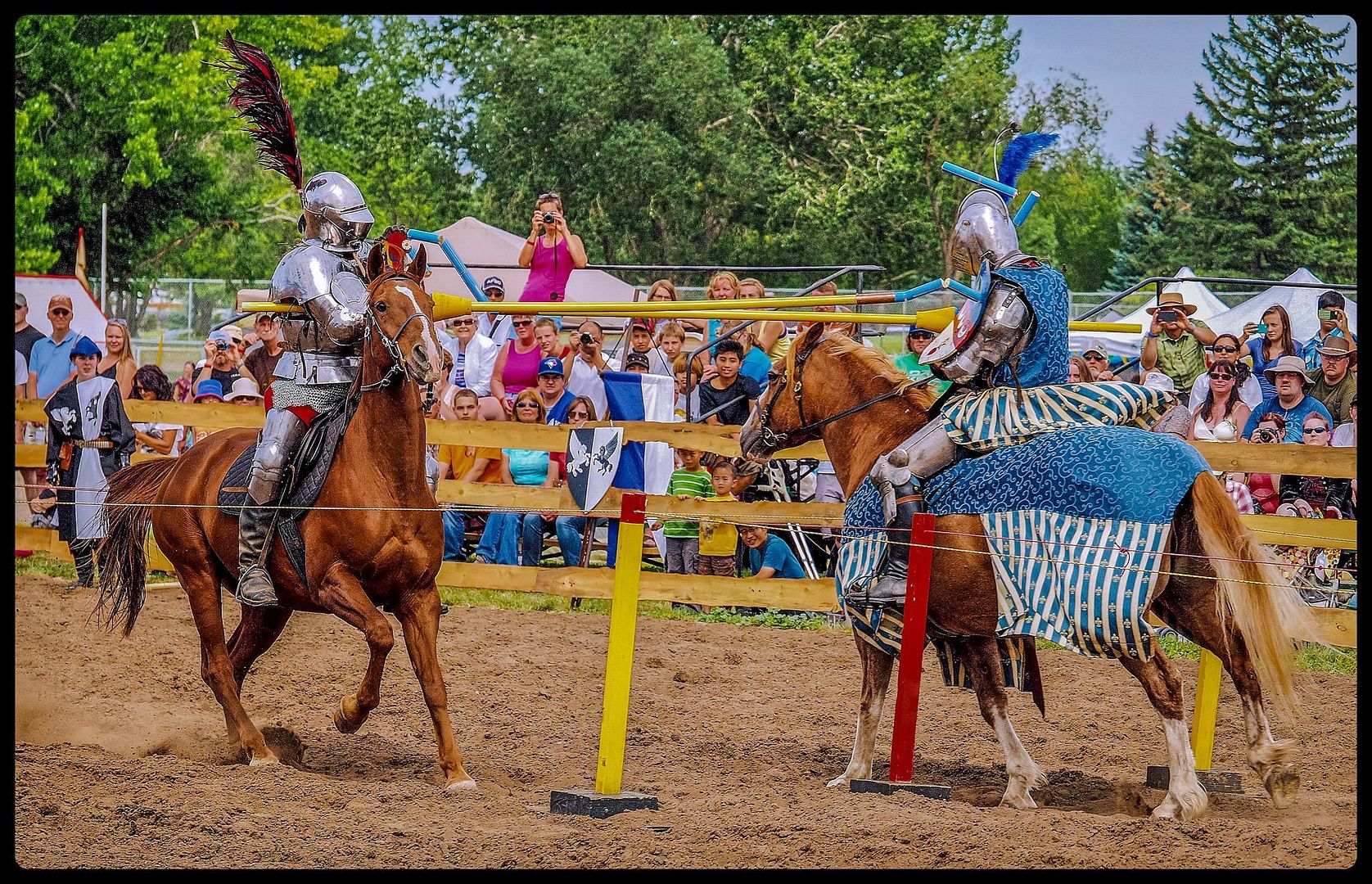 Jousters Jean Francois Drapeau of Canada and Nicola Corrarello of Italy at Brooks Medieval Faire Jousting Tournament 2014(photo by Grant Zelych)
We are keeping busy, but that is what passion is made of, isn't it!?
Related articles:
Favorite Moments From 2014: Part Two
Patrice Rolland and Sean George Win the Team Championship of Tournoi International de Joute du Duché de Bicolline 2014
On The Road to Bicolline
Le Pas d'Armes du Papegault 2014