If you have a jousting horse or horses for sale, please
email me
the information, pictures and/or video links that you would like posted.
For Sale
10-4-13
Percheron/Friesian gelding for sale
currently located in Santa Fe, New Mexico, USA
For more information contact Devon Moore
Email Devon
From the email his owner sent me:
"I am selling my 8 y.o. Friesian/Percheron Cross, and trying to get the word out to the Medieval re-enacting, jousting communities. He sure looks the part of the Medieval War Horse!"
See also her
ad in "The Chronicle of the Horse"
9-12-13
Clydesdale gelding for sale
Currently located in Madera, California, USA
For more information contact Lisa Schafer
Email Lisa
Phone number: 559-994-9613
From the email his owner sent me:
"He would make a great jousting horse for a person who can spend the time with him. He is hard to find a home for because most draft people are looking for lazy calm horses (myself included). Rocket is by no means calm and lazy. He has so much energy I can't give him the exercise he needs to be happy and safe. Hopefully, this site might facilitate the match for him and an appropriate human partner. He is an AMAZING horse. I am selling him with a heavy heart."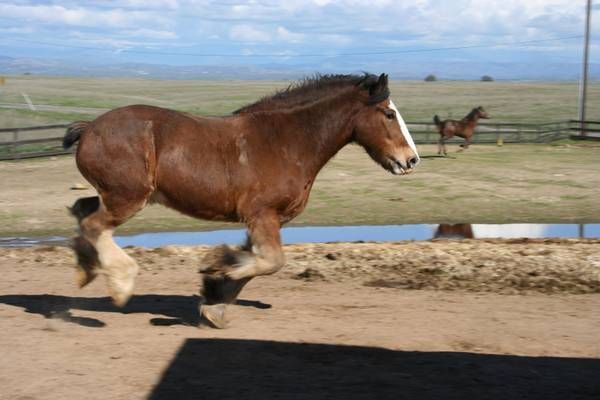 (photo from
Craigslist ad
)
For more info and pictures, check out the
ad on Craigslist
.
At Stud:
From
New Horizons Ranch
(60 miles east of Dallas, TX)
Darktanion
IFCA Registered and Approved Purebred Friesian Stallion (also registered FHH, FHANA and the FSHR.)
Ranked 4th USEF All Breeds Leading Half Arabian Sires for 2006
Open Division, Year End High Point Champion for 2008 with the Tri-State Dressage Society(In his FIRST year training and competing)
The ONLY Friesian stallion approved as Foundation stock by the SDHR!
Fee:
$850 to all Breeds ($300 Booking Fee included)
We do shipped fresh Semen only, No live cover.
Multiple Mare Discount!
Book 2 or more mares at the same time and receive a 10% discount!
Click here
for more information, or
email New Horizons Ranch