St Hallvard's Tournament
, an international jousting competition, took place May 23 - 25, at the historic
Akershus Fortress
in Oslo, Norway. Ten jousters from three different countries participated in the competition, which included two sessions of jousting and two mounted melees each day.
Joram van Essen
, who was born in New Zealand, but who currently resides in the Netherlands, won both the jousting competition and the mounted melee competition, and therefore, he earned the title of tournament champion. Joram also
won the Grand Tournament of Sankt Wendel in 2012
. In both tournaments he was riding his trusty steed Zogo, a beautiful Murgese stallion.
Luke Binks
of Australia earned second place overall. He was riding a Norwegian warmblood gelding named Misty, who was born, bred and trained at
Trollspeilet
, the riding and training center run by jouster Per Estein Prøis-Røhjell and his wife Hanne.
And
Wouter Nicolai
of the Netherlands, riding his Andalusian stallion Flamenco, was chosen by the Ladies as Most Chivalrous. Wouter was also chosen to win the
Chivalry Award at the 2013 Tournament of the Phoenix
.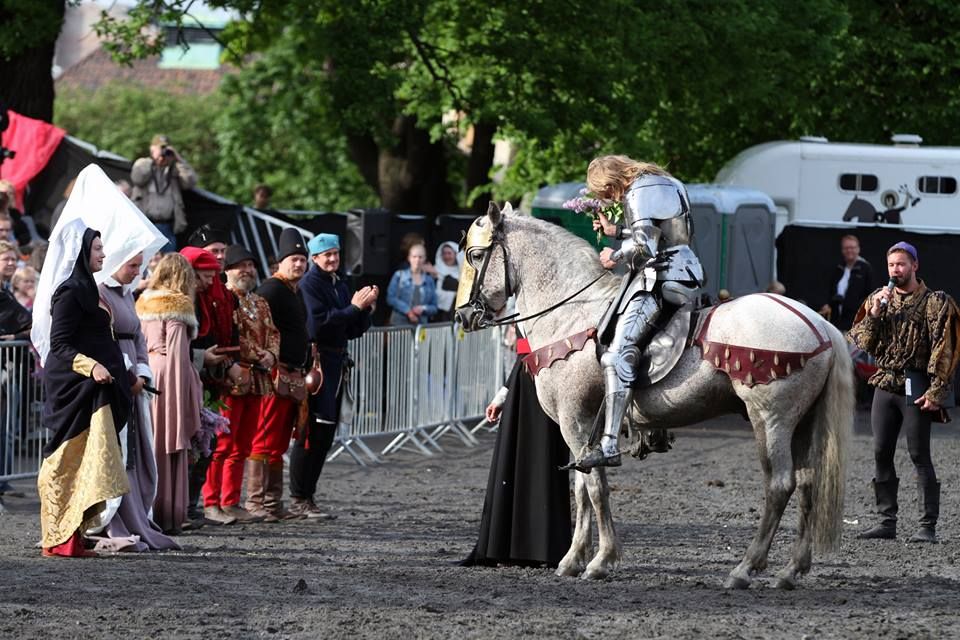 Wouter Nicolai humbly bows his head as he accepts the Award for Chivalry at
St. Hallvard's Jousting Tournament 2014 (photo by Renate Skeie)
More details about the tournament will be coming soon.
Related Articles:
An Interview with Joram van Essen: Grand Champion of "The Grand Tournament in Sankt Wendel"
Teaser for the Upcoming Video of the St Hallvard's Tournament
The Jousters of St Hallvard's Tournament
Promotional Video for St. Hallvard's Jousting Tournament
Random Pic: Practicing for St Hallvard's