There have been many exciting and memorable moments during the 2014 jousting season. This series of posts will share some of the jousters', crews' and photographers' favorite memories of the past season, in their own words and with photographs that they have chosen to go with their stories. Enjoy!
Andy Deane has been a jouster with Royal Armouries in the UK for many years. Here is his favorite memory of the 2014 jousting season:
It's very difficult to put one moment at the top of my jousting season, there have been so many. Some I wasn't even involved with; like watching some of the guys that used to joust at the big tournaments at the Royal Armouries in Leeds, now doing stunning tournaments all over Europe. The likes of
Toby
,
Arne
,
Dom
and
Joram
. They are a joy to watch and follow.
Being invited by the premier tournament group in Britain,
Destrier
, to join them in a mounted melee at the Beautiful
Leeds Castle
, and having fun folding Ash clubs over people's heads. Thank you
Andreas
!
After harrying Stacy Evans for many years, he eventually invited me to the most wonderful tournament in Britain at the moment, The
Arundel Castle Tournament
. Having only Jousted at the Royal Armouries for nearly twenty years, I don't get out much, so to take on some truly competitive (and Big!) jousters from around the world was great. New friends from Poland, the 'Man Mountain'
Jan
and the smiling Assassin Jarek, from Norway
Pelle
(it was like jousting against Thor's Hammer), the hard to hit Dutchman
Ben
and those two crazy French Canadians who seem to have been hewn from the Rockies,
Steve
and Patrice! I've now crossed lances with them all, and they will be friends for a very long time. It was a brilliant time.
Left to Right: Jan Gradon, Steve R. Gagnon, Pelle/Per Estein Prøis-Røhjell, Andy Deane,
Ben van Koert, Patrice Rolland, Phillip Leitch and Jarek Struczynski at Arundel 2014
(photo by ARW Photography)
However the best moment happened and a very small event. It was an evening joust, on a glorious summers day for the officers of a regiment in the British Army. No more than a hundred people present. I was Jousting against my best Friend Andrew Balmforth, who also used to joust at the armouries for many years. The organisers were short of ground crew, and so I roped in my two teenage sons Henry and Oliver to help out.
With the sun low in the sky, my armour gleaming, on a very keen horse I nudge up to the mounting block, Henry resplendent in our family colours hands me my lance. Off I go, thrashing down the tilt. A massive double hit with Balmforth, rocked all over the place, come to a halt and give the remnants of the lance to my other son Oliver. That moment with my two grown up boys and Balmforth will live with me for ever.
Jouster Benedict Green
(photo by Stephen Moss)
Benedict Green, who started training with the British jousting troupe Destrier four years ago with the intention of becoming a jouster, shares his favorite memory:
I went from non-jouster to professional jouster in a season of many ups and downs... Hedingham was without doubt my highlight, as I made my debut there, but winning a joust to compete against the "King" at
Bosworth
also came very close!
At Bosworth, the jousting system operates differently. Four knights joust and score points in a round robin format, but instead of the top two knights jousting in a final, the highest scoring knight competes against the king (Andreas in this case). Sadly, I didn't defeat the king as well, but that would probably have been bad form!
Benedict Green(right, green feathers) breaks his lance against Jason Kingsley(left, red feathers) during Ben's first professional joust at Hedingham Castle 2014 (photo by NWY Photography)
Tina Steiner is another member of Destrier who has fond memories of Bosworth:
Tina Steiner (photo provided by Tina Steiner)
I've been a member of Destrier for 2 years, riding in mounted games and military skill at arms. I enjoy the games and the friendly banter among the participants. Even though at events more stress is always put on the jousts, at least as much skill is needed for cutting cabbages, spearing rings or throwing javelins in full canter.
I am the lucky owner of a horse who has pretty much seen it all and does it all, which gives me an advantage over the group members who ride horses from our suppliers. We know those horses because we train on them over the winter but it's not the same as riding a horse every day.
When we ride in battles, like the
Battle of Bosworth
, I can rely on my horse to do exactly what I want and to be exactly where I want her to be. Although Zahara doesn't like the pressure waves when the cannons go off, she will flinch but she would never run away. I've taught her to push people with her head so she gets desensitized to fighting the shiltron (troops formed in a circle, facing outward).
My favourite memory of 2014 would be riding as standard bearer to King Richard III (portrayed by Andreas Wenzel) in the Battle of Bosworth. I knew most riders in the battle would want to attack the pavaises with a lance in the main charge, and even though I could have done that as well, I knew that there was no better choice than Zahara when it came to carrying a fluttering banner and staying with the king on the battlefield no matter what. We followed him to the parley, when he rallied the troops and into the final battle. And although I know it is 'only' a re-enactment, I still get goose bumps when Andreas rabble-rouses the soldiers against the usurper Tudor.
After the attack on Tudor's standard bearer and the shiltron, the King got off his horse and went on to fight on foot. That is not what he really did, but it would be too dangerous for horse and rider to actually unhorse him in battle. So I followed him into the fight with his banner and dutifully died with him.
King Richard's banner bearer had his legs cut off from under him. In the throng of fighters it is easy to imagine what it would have been like. If all the weapons were sharp you could be dead within a few minutes. That really gets the adrenaline flowing. And if I get the chance I'll be there again next year.
Tina Steiner carries the King's Banner for King Richard III(Andreas Wenzel) during the
Battle of Bosworth re-enactment (photo by Mike Ingram)
From the other end of Europe, jouster and tournament organizer Dmitry Savchenko of Russia has this to share:

Well, of course, the most striking is
Tournament of the Phoenix
. It was my first international tournament outside of Russia, new competitors, new horse – everything is new and everything is very interesting.
Individual moments. Well, perhaps, foot tournament. I did not expect from myself that I will do it well. The most interesting fight was with Luc – probably because was the longest. Good melee where I chased Tobias. That is only with regard to the combat scenes. The rest – the most vivid impression is familiarity with wonderful people.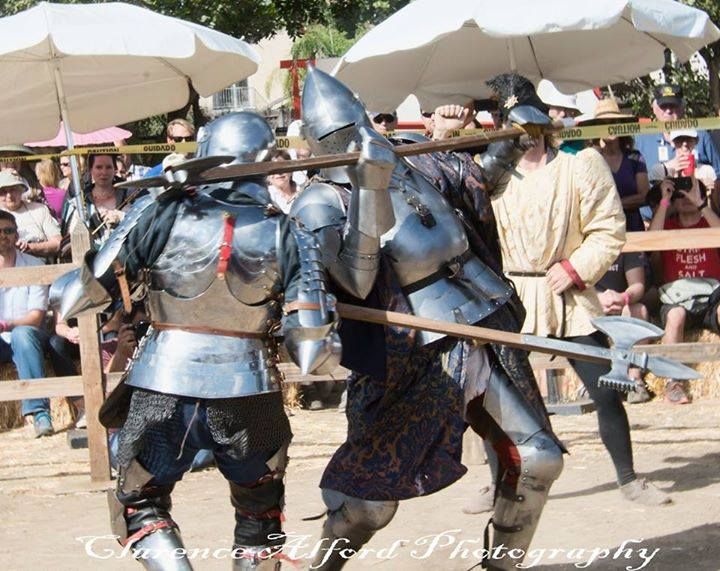 Dmitry Savchenko(right) fights with Luc Petillot(left) during the pollaxe competition at Tournament of the Phoenix (photo by Clarence Alford Photography)
Well, at home – it is certainly the tournament in Izborsk. I returned to the fortress after a break that lasted four years. Great fights, including – for the first time – with Victor Ruchkin. For me, in Russia, it is very important that there are new, interesting opponents. In addition, we have made a wonderful historical camp inhabited by lovely people. I wrote you a
detailed report
. I wish that these places could be seen by my friends from abroad.
And, of course, the event in the Crimea. I was glad to come back here and make the event on earth which is directly linked to European history of the 15th century.
Victor Ruchkin(left) jousts Dmitry Savchenko(right) during the tournament in Izborsk
(photo by Eugenia Komarova)
Thomas Andersen
(photo by Karin H. Antonsen)
Thomas Andersen of Norway shares his favorite memory of the 2014 jousting season:
The underdog story come to life!
My favorite moment of the jousting season in 2014 was my last match against
Per Estein Prøis Røhjell
(Pelle), in the finals at
St. Olav's Tournament
in Trondheim. One could feel the tension in the air. The men and woman I rode against are far more trained on horseback than me. They have their own horses and have a lot of experience competing in jousting tournaments. A true jouster presents a good target. Pelle is one of those guys!
Coming in 2nd place just two points behind Pelle was truly an awesome feeling!
A huge thanks to my team, for doing an awesome job during the tournament! My aunt, Tone Antonsen, for letting me ride her horse, and being a perfect horsemaster for me. And to my squire Martin Hagen Johnsen for superb help with all the equipment I needed!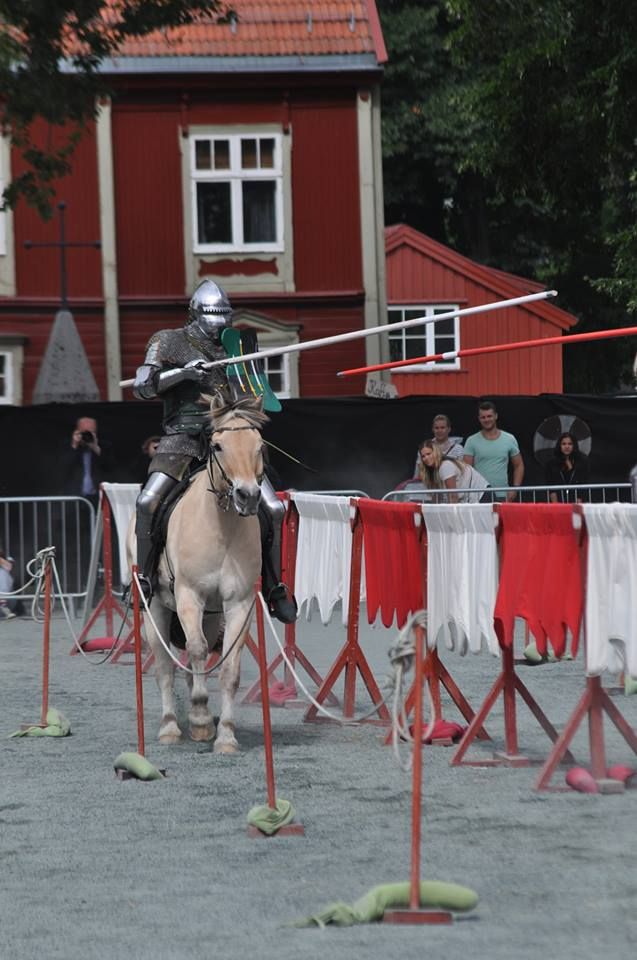 Left: Thomas Andersen riding Even, the 21 year old Norwegian Fjord horse (WarFjord).
Right: Thomas Andersen jousts Pelle(Per Estein
Prøis Røhjell
) at St Olav's 2014
(photos by Stine Gulli)
More Favorite Moments will be published soon!
Do you have a favorite moment from 2014? Please share it in the comments.
Related articles:
Interview with Ben van Koert, Half of the Winning Team at Arundel International Tournament 2014
An Interview with Toby Capwell, Champion of Tournament of the Phoenix 2014
Jousting at Zhelezny Grad
Interview with Per Estein Prøis- Røhjell, Team Champion at Arundel and Individual Champion at St Olav's 2014