The Thursday night before the
Leeds Easter Tournament
(aka the
Queen's Jubilee Horn Tournament
) was to begin on Good Friday, there was a special opening night event by invitation only. The author of the
Judge-Tutor Semple
blog(whose
articles
about jousting tournaments have been referenced before) was there and did a nice write up of the evening.
I have already written about this year's Tournament a couple of times, the most recent introduces this year's competitors. Tonight I attended an opening evening at Royal Armouries by invitation. It was an honour to be asked along. There was a talk on the history of Tournament and a chance to get a closer than usual look at some of the exhibits.
....
The Royal Armouries are very keen to keep improving the Tournament. This year they have invited more Knights than in recent years, there are both individual and team events and a mounted melee for the first time. The mounted melee involves all six knights being involved at once armed with wooden clubs.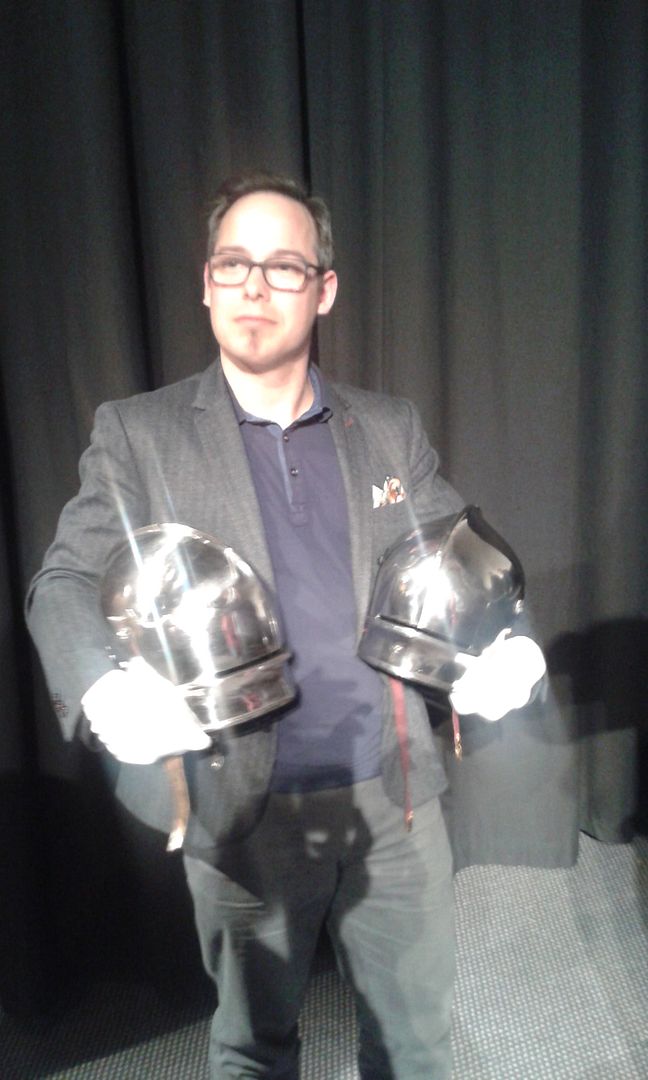 Jouster Ben van Koert holds his helm(his left hand) and the original helm(his right hand)
that it was based on (photo from Judge-Tutor Semple)
Ben van Koert, a member of the Burgundy team, showed me the helm he will be using in the melee. He pointed out a small dent and told me that iot was sustained from a full force blow from a pollax. The dent really was quite small, an impressive helm indeed. Ben and his helm came face to face with the original upon which it isd based. The similarities were very obvious and more impressive given that the armourer that made it for Ben had only photos to work from. The original is in Ben's right hand.
Related articles:
Three Teams of Jousters to Compete at the Queen's Jubilee Horn Tournament 2015
Andy Deane and "How to Train a Knight"
An Interview with Jouster Mark Caple, Champion of the Queen's Jubilee Horn Tournament 2014
Mark Caple Wins the Leeds Easter Jousting Tournament 2014
The First Day of the Leeds Easter Jousting Tournament 2014
Nice Blog Post About the Easter Joust at Royal Armouries Leeds 2013