Andy Deane
works at the
Royal Armouries Museum in Leeds
as a visitor experience team coach,
... and on some days, he also works as a knight.
Andy Deane on the jousting horse Ted during the Queen's Jubilee Horn Tournament 2014
(photo from Royal Armouries Tournaments)
Andy has been riding horses since the age of four and began jousting in 1993. In 1995, he joined the Royal Armouries jousting team in Leeds, and spent several years as the captain of the team. He has jousted against many of the best jousters in the world, and in July of 2014, he won the
Individual Championship at the prestigious Arundel International Tournament
. He has traveled across Europe, Asia, Canada and the USA performing and teaching the medieval martial skills a knight would have needed to compete in tournament or survive in battle.
Recently, as part of the promotions for the upcoming
Queen's Jubilee Horn Tournament
(aka the Leeds Easter Jousting Tournament), Royal Armouries released a humorous video, featuring the 50 yo, 84 kg (185 lbs ), 178 cm tall (5' 10") Andy Deane as the former Queen's Champion determined to reclaim the championship that he lost to Mark Caple in 2014 "by any means necessary".
How to Train a Knight (video by Royal Armouries)
When asked, Andy kindly agreed to answer a few questions about the video and the
Queen's Jubilee Horn Tournament 2015
which will take place April 3 - 6 in Leeds.
Who came up with the idea for the video?
Marketing came up with it after they caught wind of my own personal trial. This year was one of those big birthdays that some people mark. Some men when they reach fifty might buy a sports car or a powerful motorbike. They might bungee jump off a bridge or swim with sharks. I wanted to challenge myself to something extraordinary in armour, and so I came up with the
'50/50/50 Challenge'
: A fifty minute 'Cardio Vascular' workout, wearing more than 50 lbs of armour on the day of my fiftieth birthday (March 19th).
I was persuaded to allow
local media to come along
so that the workout could be used to bring attention to our upcoming annual Easter tournament[aka the Queen's Jubilee Horn Tournament].

EPIC VIDEO - Champion jouster in Leeds takes on gruelling exercise challenge wearing fifty pounds of medieval body armour! - brought to you by On The Aire - local news that matters to you.
Posted by MADE in Leeds on Friday, March 20, 2015
Champion jouster in Leeds takes on gruelling exercise challenge wearing fifty pounds of medieval body armour! (video by MADE in Leeds)
The idea of a man in medieval armour working out in a modern gym got people excited, and they then asked me if I would do a proper (fun) workout film to promote the tournament and the newly opened gym. I was interested to see exactly what could be achieved, so I said yes… and so began a nine hour ordeal in armour which was way way worse than my initial challenge to myself!!
...and how hard did they have to work to persuade you to do it?
Really hard!! Initially, I didn't want to do it at all. Like most people, I hate appearing to be foolish. I also hate denigrating my role at the museum or indeed the courage of real medieval warriors, who for them, when they put on armour, it was often a life or death situation.
But on the other side of the coin, my work also includes myth busting. So if I could show what an old broken, (overweight) man in armour could do, … maybe people would really start to believe that the fighting knight from history was an immensely athletic martial artist! Rather than the armour limiting the man, it worked in natural harmony with him as he carried out his intentions.
What was the most fun part of making the video?
Taking the armour off at the end!!
Andy Deane in 'soft kit', historical clothing he wears at tournaments when he is not wearing armour. This photo was taken on the first day of the Arundel International Tournament 2014. (photo by ARW Photography)
What was the hardest part of making the video?
The sparring. The film only last a few minutes, but anyone who has been involved in filming knows that it can take days to get those few minutes, and the section with the sparring was a real lung buster and really hurt.
Actually, thinking about it, it was pulling and pushing the sled. This was because I had a bit of a malfunction with the armour. When I agreed to do the filming, I decided to keep the weight to about 60 lbs, so decided not to put the extremities of the armour on (i.e. helmet, gauntlets, sabatons and mail shirt). I'm stupid but not suicidal!! But this meant that as I pulled the weighted sled towards me, the corners of the pauldrons[shoulder armour] sliced into my neck. The eagle eyed will notice that, in the video, in some shots I have a cravat on, and in others I don't. (The cravat went on after I started bleeding!)
How many times have you competed in the Queen's Jubilee Horn Tournament?
This year will be my fourteenth crack at Championship.
Besides winning the Queen's Jubilee Horn Tournament in 2013, have you won or placed well any other times?
I've won it twice, in 2011 and 2013. The Queen's Jubilee Horn Trophy was idea of the founder of all the tournaments at the Royal Armouries Museum, and I would say the father of the modern revival of historical jousting,
Mr. John Waller
.
In Britain and the commonwealth, 2002 was the
Queen's Golden Jubilee
, and as part of the national celebrations, the museum commissioned a trophy (made by John) for the winner of the inaugural individual championship. Although the trophy will always reside in the museum, each year's winner has his name and jousting colours added to the trophy on a gilded shield, and every year since, jousters from around the world have been invited to compete for the honour of being added to Her Majesty's Trophy.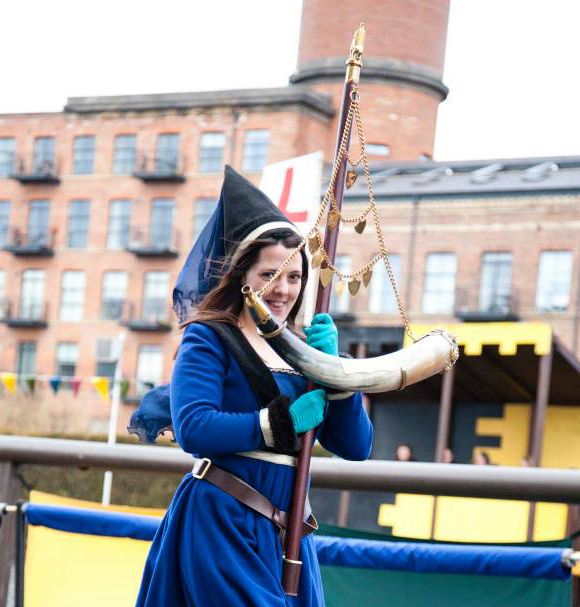 A young lady carries the Queen's Golden Jubilee Horn during the 2013 tournament
(photo from Royal Armouries Tournements)
I have competed in all of the tournaments since 2002 (although I might have missed one through injury), and I came second, third, fourth and even fifth... A lot!! But when you have the likes of
Arne Koets
,
Joram van Essen
,
Dr. Tobias Capwell
,
Steve Mallet
and
Dominic Sewell
coming screaming down from the other end of the tilt on a fiery steed, there is no shame in coming second or third sometimes!
What would you like to say to Mark Caple who won the tournament last year?
Well done, you are a worthy champion, and I wish you and
Destrier
(the fantastic tournament re-enactment group) all the best. I hope I get another chance soon, to bash up that stunning armour of yours!
What are you most looking forward to about this year's tournament?
Lots of things, a Club Melee has been introduced for the first time.
When one of the Royal Armouries team jousters at the Leeds Castle Grand Tournament 2014 was injured, Andy Deane was invited to take his place in the mounted melee. Here Andy(left) fights against Mark Caple(right). (photo by Richard Pearn)
A team representing
Poland
is coming jousting for the first time. And as I'm fifty and this is my twentieth season of jousting at the Royal Armouries in Leeds, I'm looking forward to this being my last! I need to hang up my spurs and put my horse out to grass!!
The jousting community will be sad to see you go, but you have certainly earned your retirement. Thanks for answering my questions, and best of luck with all your future endeavors!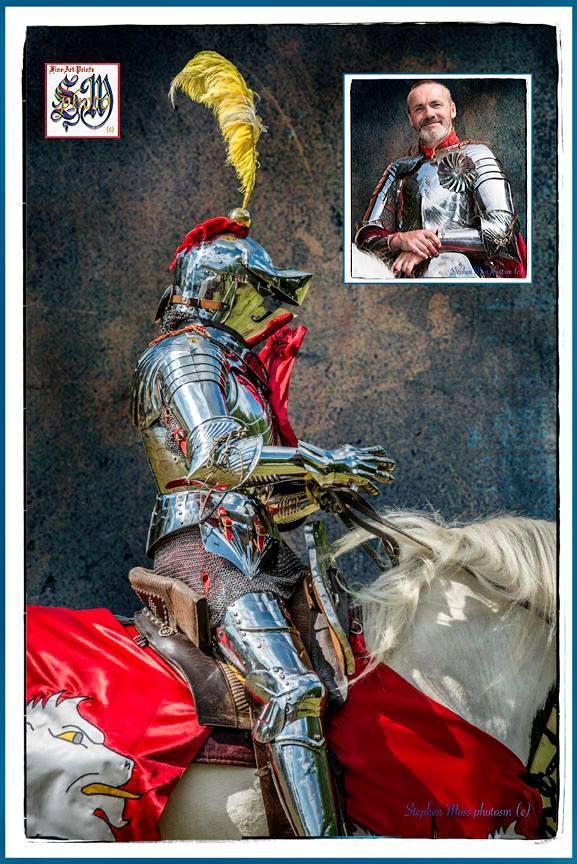 Jouster Andy Deane (photo by Stephen Moss/PhotoSM)
The Queen's Jubilee Horn Tournament will be held April 3 - 6 at the
Royal Armouries Museum
in Leeds, UK. You can find out more about the tournament on the the
Royal Armouries Tournaments Facebook page
, the
Royal Armouries blog
and the
Royal Armouries calendar of events
.
Related articles:
An Interview with Jouster Mark Caple, Champion of the Queen's Jubilee Horn Tournament 2014
Mark Caple Wins the Leeds Easter Jousting Tournament 2014
Favorite Moments From 2014: Part One
Random Pic: Fearing No Foe, a Tribute to 'The Jousting Artist' Graham Turner
Arne Koets: Tournament Organizer and Jouster at the Grand Tournament of Sankt Wendel