The "Full Tilt International Jousting Tournament" was held this past weekend in Australia as part of the
"Royal Bathurst Show"
. The tournament was the first official tournament of the newly formed
Professional Jousting League
(PJL) and was hosted by
Full Tilt Jousting
led by
Rod Walker
(the coach of the black team from
"Full Metal Jousting"
). It served both as an international jousting tournament and as the Australian national championship tournament. Female jouster Sarah Hay won both aspects of the tournament.
Sarah Hay
is an experienced horsewoman who lives on a farm in the outskirts of Sydney where she looks after a team of eleven horses. She has participated in a variety of equestrian activities, but has lately decided to focus on jousting and mounted archery. Sarah, who is only 5'6" tall and 140 lbs, has been competing in international jousting tournaments for two years.
During the "Full Tilt International Jousting Tournament", Sarah was competing against men and women from both the United States and Australia. One of her competitors was FMJ assistant coach for the black team, American
Jeremy Oneail
, who "has won over a dozen tournaments in six different countries. Since learning how to joust, Jeremy has competed and placed in more overseas jousting competitions that any other American jouster."
The list of competitors who participated in this year's "Full Tilt International Jousting Tournament" included: Andrew McKinnon (Australia), Fiona Williams (Australia), Jeremy Oneail (USA), Katrina Kruse (Australia), Phillip Oliver (Australia), Robbie Hubbard (USA), Sarah Hay (Australia) and possibly a few others.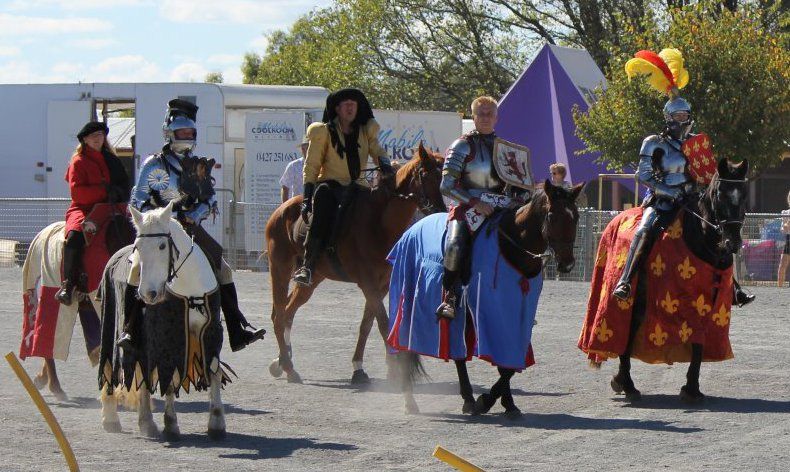 From left to right: Fiona Williams, Robbie "Breaksalot" Hubbard, Andrew McKinnon, Jeremy Oneail and Sarah Hay(Photo by Rod Walker)
The winners for this dual tournament were as follows:
Full Tilt International Jousting Tournament:
1st place -- Sarah Hay
2nd place -- Robbie Hubbard
3rd place -- Jeremy Oneail

Australian Championship Jousting Tournament:
1st place -- Sarah Hay
2nd place -- Phil Oliver
3rd place -- Andrew McKinnon
This was not the first jousting tournament that Sarah has won(she has won at least six others), and probably won't be the last. At her next tournament during the weekend of May 11 - 13, she will be one of twelve women competing in
"Lysts on the Lake"
which takes place in Taylor, Texas, USA. She will be facing a total of 45 competitors from 6 different countries.
This will be the largest tournament that she has ever competed in -- as it will be the largest competitive jousting tournament held in modern times according to the
International Jousting League
. With so many women competing, and the distinct possibility of a woman winning this and/or other upcoming tournaments, it seems like competitive jousting, which was previously perceived as a purely masculine sport, may be changing to include a few more feminine faces.
(photo from the Macarthur Chronicle)