At the end of the fourth day of the
European Championship Jousting Tournament
being held at
Spottrup Castle
in Denmark, the defending champion, Klas Lundberg of Sweden was still in the lead. Hometown favorite Ole Bach trails by only two points. The two jousters are poised for a photo finish during the finals of the tournament on Friday.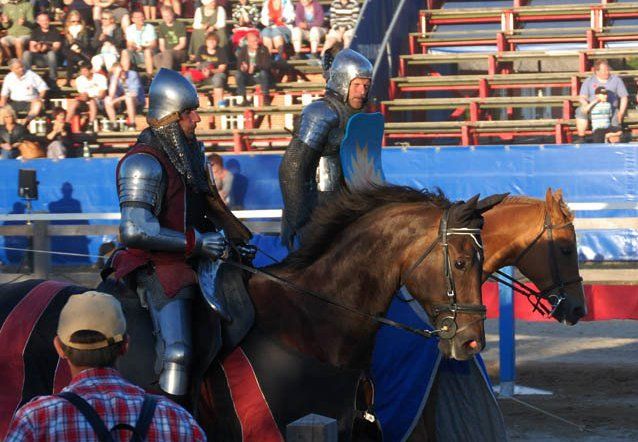 Klas Lundberg(left) and Ole Bach(right)(photo by Ronja Knightingale)
Surprisingly neither of the overall tournament leaders actually scored the most points during the second day of jousting competition. Joakim Løvgren, a Danish jouster in his debut tournament actually outscored all the more experienced jousters during the semi-finals, earning him his place in the finals on Friday.
Sadly injuries have caused several other jousters to withdraw from the competition before reaching the finals. Female jouster, Sarah Hay, who is from Australia but was competing for the English team, was in third place overall at the end of the first day of jousting. Unfortunately, in the last pass of the day, her right knuckle was broken, ending her ability to compete in this years tournament.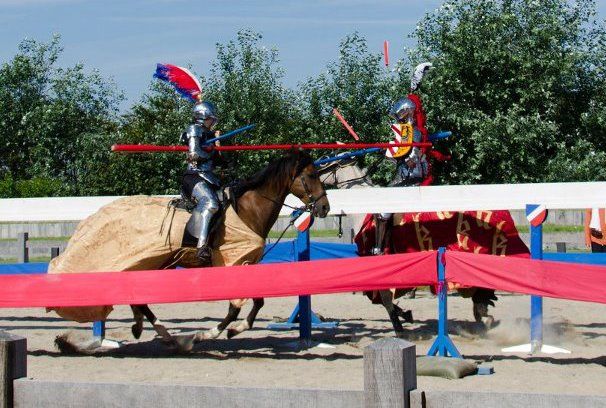 Sarah Hay(left) and Darth Rimmer(right)(photo by Spottrup Borgmuseum)
During Thursday's semi-finals competition, Steve Hemphill, an American jouster competing on the German team, suffered a shoulder injury and had to withdraw from the competition. He had already earned 82 points, and who knows how far he could have gone if he had not been injured.
Steve Hemphill tilts at rings(photo by Spottrup Borgmuseum)
Toin Peeman of The Netherlands was injured in his last past against Nicky Willis of England. He had already earned his place in the finals, but it is uncertain whether he will be competing in them. The decision will be made based on how he feels Friday morning.
Toin Peeman receives medical attention(photo by Ronja Knightingale)
Currently, the list of the six jousters who will be competing in the finals is as follows:
Klas Lundberg, Sweden - 125 points
Ole Bach, Denmark - 123 points
Petter Ellingsen, Norway - 96 points
Joakim Løvgren, Denmark - 86 points
Gunnar Cederberg, Sweden - 85 points
Toin Peemen, The Netherlands - 84 points (injured)
[UPDATE: Apparently, although the raw points given here are accurate, the points earned for jousting were weighted more heavily than the points earned during MSA. Once the weighted scores were worked out, Steve Hemphill had actually earned a higher score than Toin Peeman -- despite not competing in his final match due to injury and a tired horse -- and therefore earned the sixth spot in the finals.]
And here are the jousters who competed in the semi-finals, but did not reach the finals:
Steve Hemphill, USA/Germany - 82 points (injured)
Nicky Willis, England - 78 points
Per Nerlund, Sweden - 78 points
Xavier Fauvel, Belgium - 73 points
Darth Rimmer, USA/England - 71 points
Luc Pettilot, Belgium - 71 points
With Klas and Ole so close in points, the finals should be an exciting competition. Apparently, Klas has been jousting so aggressively that on two occasions not only did he break the tip of his lance which is designed to break upon impact, he actually broke the shaft of his lance as well. (None of the injuries are attributed to his actions.) And with his hometown cheering him on, it is certain that Ole will be doing his best to finally win the title of European joust champion.
Klas Lundberg(photo by Ronja Knightingale)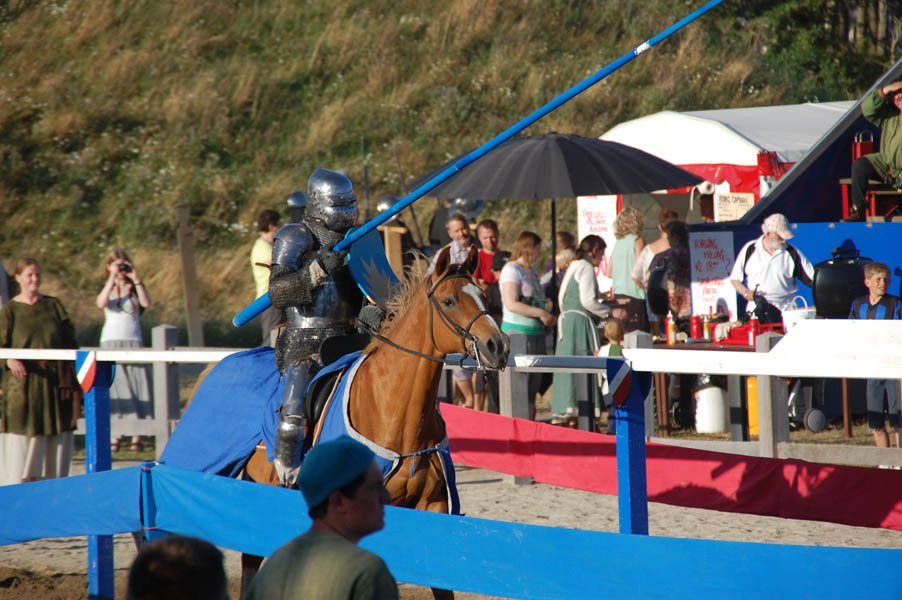 Ole Bach(photo by Ronja Knightingale)
Many thanks go to
Broder Jakob
of
Spottrup Borgmuseum
and Ronja Knightingale who have been providing me with the information and pictures for these articles.