A previous article gave an excerpt and a link to Toby Capwell's first blog post about Die Grossen Ritterspiele zu Schaffhausen (aka The Grand Tournament at Schaffhausen). He has just published his second post.
From the Wallace Collection website:
Jousting tournaments are not known for their live reporting… until now. Toby Capwell, our Curator of Arms and Armour, reports from 'The Great Tournament of Schaffhausen' in Switzerland. Remember to keep checking in for updates or add the blog to your RSS feed!
Second Report – Tuesday 15 July, The Forms of Combat
OK, we're three days in. The fighting has been fierce, and so has the weather. We had to pause for 30 minutes yesterday before we could start the first joust when the heavens opened and dumped what seemed like several storms' worth of water on us. But soon the sun came out and we began. Today was better, with beautiful evening sun shining on the second round, which takes place at 19:00 every day. The sun inspired us I think, solar-powered creatures that we are, to greater efforts and the mêlées today were certainly the best yet.
We have already suffered injuries- not me personally, but one of the other competitors was stabbed through the hand yesterday, by the cross-guard of one of his opponent's sword. It isn't quite clear whose…. so we are down to seven riders in operational condition.
But I should at this point outline some of the basics of the event. In this instalment I'd like to briefly explain the forms of combat which comprise the Schaffhausen tournament. Somewhat unusually, there are four disciplines in which we all have to compete, which makes this a very challenging event. Challenging in terms of skill, stamina, and concentration.
All of this is based very closely on two detailed accounts of tournaments held in Schaffhausen, in 1436 and 1438, which seem to have inspired and formed the basis of King René d'Anjou's famous
Book of the Tournament
(
c
. 1460). In the fifteenth century, all of the different forms of combat took place over about a week. We have one hour, twice a day, to demonstrate everything in the historical records. As I said, its challenging.
To read the rest of the article and see the rest of the pictures, click here.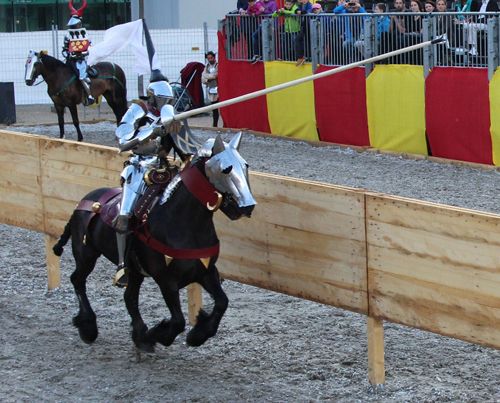 Toby Capwell jousts at Schaffhausen 2014(photo from
The Wallace Collection
)
Related articles:
Toby Capwell is Writing Blog Posts about the Grand Tournament at Schaffhausen!
Video: Toby Capwell Explains His Passion for Jousting
An Interview with Dr. Tobias Capwell: Jouster at "The Grand Tournament in Sankt Wendel"
An Interview with Dr. Noel Fallows, Author of Jousting in Medieval and Renaissance Iberia: Part One